The installation of solar panels is a very good alternative to consuming your own, clean energy and saving money in the long term. However, for this to be possible, the solar panels must have good performance since it determines the amount of energy that they are capable of producing. One point that condition the performance of our solar panels is their maintenance. We expose solar panels to different types of dirt (dust, pollution, dirt, leaves…) which, besides reducing their performance, can cause what is known as hot spots and damage the panels. If we carry out a correct cleaning of solar panels, we will keep them in good condition and, in addition, the energy production will be greater.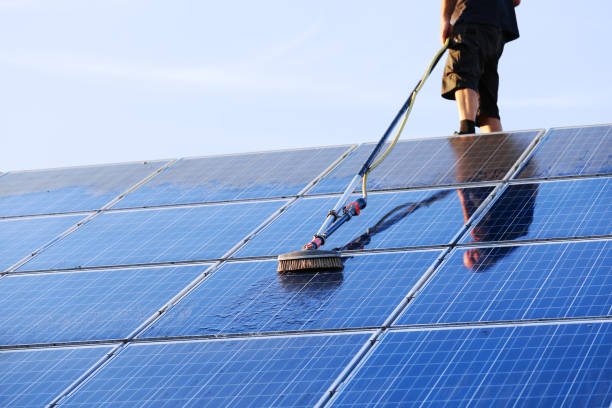 In this post, we tell you everything you need to know about how to clean solar panels, what products to use and how often to do it. Keep reading!
When Should the Plates be Cleaned?
As a general rule, solar panels should not be constantly cleaned since they clean themselves automatically with rain. However, after unusual atmospheric conditions, such as haze, or if you live in areas with a lot of pollution, sand, or snow, it will be necessary to clean the photovoltaic solar panels.
To decide if cleaning is necessary or not, the first thing you should do is check the level of dirt. To do this, the easiest way is to do a visual inspection. Another way would be to check if production has been reduced, although it is a more complex and subjective method.
Once you have decided that cleaning is necessary, it is time to decide when to do it. As for the time of year, as the rain contributes to the natural cleaning of the plates, the best time would be the one in which it rains less, summer. If you do it in summer, avoid the hours of the highest radiation since the plates will also be hotter. Another possibility is to take advantage of cold and cloudy days when the incidence of the sun is less. Avoid rainy and windy days to minimize the risks.
 What Products to Clean Solar Panels Do you Need?
The most important aspect to keep in mind is that you should not use tools or products to clean solar panels that can damage the glass, either by scratching, abrading, or deteriorating it. If this occurs, we may reduce performance depending on the severity of the damage. You will need the following materials:
Add a drop of soap to a bucket of warm water. Do not add too much because if there is a lot of foam, residue can remain if we do not rinse well it.
A lint-free cotton cloth to rub stains. Remember to do it carefully so as not to scratch the glass.
A rubber squeegee to remove excess water.
Some plates are inaccessible, a pole could help you with the brush.
If you have a long hose that reaches the ceiling, avoid using too much water pressure. If you choose to clean solar panels with a pressure washer, also apply little pressure for the same reason.
Do not forget to consult the manufacturer's instructions for your solar panels in case there is any specification to consider when cleaning.
How to Clean Solar Panels?
Now that you know what materials you need to clean solar panels, let's see how it's done.
Pour abundant water and with little pressure wet the solar panels beforehand so that the dirt softens and is easier to clean.
Moisten the cloth and go over the panel in a zigzag pattern covering the entire surface. Stand more in the dirtiest areas.
Rinse off soap residue and dirt with plenty of water.
Using the squeegee, remove any leftover dirty water.
Dry the surface with a clean cotton cloth. Making sure that there are no fibers or lint left on the solar panels.
Another factor to consider is the basic security measures to clean solar panels on roofs or on sloped roofs. It is essential to use fastening systems. To protect against falls and to properly secure the stairs you used to climb to the roof.
Solar Panel Cleaning Service, Is It Worth It?
As we have already seen, cleaning solar panels is usually a simple process that you can do on your own with no problem. However, if your installation is on the roof or is difficult to access, it would be advisable to hire the services of a qualified professional for security reasons.