In certain sectors, such as the hotel industry, it has always been very important to maintain proper hygiene throughout the making and preparing of products. But, in addition, since the pandemic, our lives, having a cleaning and disinfection plan is essential for this type of business.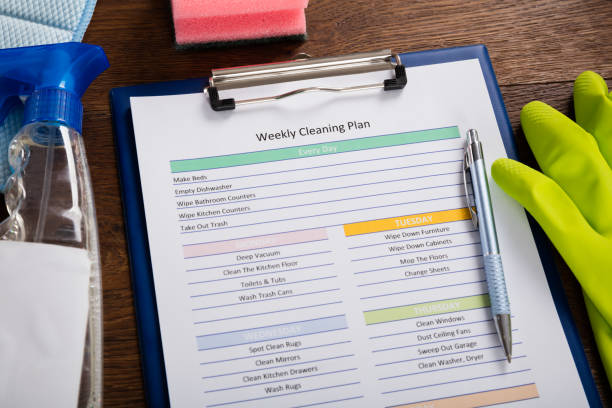 Do you know what measures to take? Do you know the steps to guarantee the safety and health of your customers? What surfaces and areas are where you have to carry out these tasks? Below, we have prepared this guide for developing an effective cleaning and disinfection plan.
What Aspects Should A Cleaning And Disinfection Plan Have?
Each company is different, so in the first place, we must consider that each establishment needs some specific characteristics. It logically depends on the professional sector to which it is oriented; For example, a hospitality cleaning and disinfection plan differ totally from that of a school canteen. Therefore, implementing the cleaning plan must be designed based on these characteristics so that it can comply with the mandatory standards, especially with companies in which we handle food.
The plan must contain information on the surfaces, equipment, facilities, or utensils that must be cleaned and disinfected. It is also necessary to show the periodicity of these tasks. When they have to be done, how, and with what methods we will carry them out. This document should explain how it can be verified. That cleaning and disinfection are really effective. As well as the team that will be in charge of carrying it out.
The first aspect that needs assessment before developing the disinfection plan is to identify the elements that need treatment. Both its location and who it is must be specified. This makes it workable to identify the products. For each type of surface, as well as if we need other factors. Special containers, special work clothes, specific machinery, and so forth.
Advantages Of Having A Cleaning And Disinfection Plan
The main advantage of the cleaning and disinfection plan for a restaurant or any other food establishment. (Butcher, greengrocer, and so forth) Is the development of the commercial activity. A business that does not comply with this plan and the inspector who run the inspections will close or we will pause its activity until it is 100% safe for customers.
Another advantage of having this type of plan is the peace of mind that the premises and the products and services out inside are free of dirt, microorganisms, or any other type of contaminant. By minimizing risks, we will prolong the useful life and efficiency of the equipment used for a longer time.
The confidence that consumers will have in the business will be higher if they check the state of the premises and, in addition, the image that the company itself will project will be more beneficial to get more sales. And, of course, we will generate good cleaning habits among the staff of the establishment or business.
Examples Of Cleaning And Disinfection Plans
The correct storage of cleaning material, the proper use of elements used to carry out tasks, or the frequency of operations are some examples of a cleaning and disinfection plan that must be included in the document that each establishment must have.
To carry out a cleaning and disinfection plan for a bar. It is necessary to have a control and disinfection sheet. Several dedicated people work in shifts on different tasks. We have completed as quickly cleaning as possible using this method. In control of the next time, we perform it.
As we have said, a kitchen cleaning and disinfection plan are very important. To verify that the tasks carried out guarantee good results. We can do this verification of the cleaning and disinfection plan through a visual inspection, through a microbiological control, or using biochemical methods to know it reliably and quickly.