Since March, the pandemic has radically changed our lives, including our routine at work. Some have been able to telework for a while. But in order to return to this long-awaited "new normal" many have already been joining their jobs.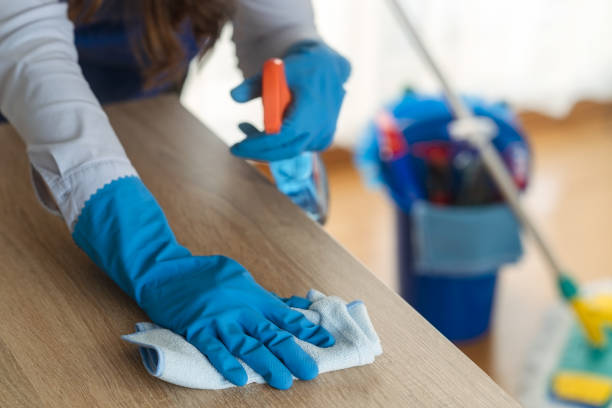 For this reason, it is very important to know how COVID disinfection should be carried out to avoid spreading infections within the office. Although the use of a mask and hydroalcoholic gel, respecting the safety distance and putting in protection measures (such as screens) are key to stopping the virus, surface professional office cleaning is also essential to guarantee safety in a job.
Disinfect Surfaces During a Pandemic
The permanence of the Coronavirus on surfaces varies depending on the type of material and the environment in which it is. For example, on materials such as stainless steel, money paper, or plastic it can last up to 4 days. While on a sheet of paper. (Depending on the characteristics of humidity and temperature) it can last up to 3 hours. Under this situation, it becomes essential for any office to carry out exhaustive disinfection of surfaces to combat COVID.
One product that to date has been found to be most effective in eliminating the virus is bleach. In order to use it, it is necessary to dilute it in a liter of water for every 20ml. Apply it with a cloth and moistened it. But keep in mind that bleach is a product that cannot be used on any surface. Since for example, aluminum, steel, or chrome finishes can spoil it.
For those surfaces where we don't recommend using bleach, soap becomes another great ally against the Coronavirus. To do this, the idea is to mix it with hot water. So that it dries faster and the employee can return to his job as soon as possible. Whether it is disinfected with soap, bleach, or any other product, its solution in water must be renewed often and the cloths rinsed thoroughly before re-using them.
How To Disinfect The Computer
The essential in professional office cleaning is cleaning the computer, and logically in times of COVID, even more so. Even if it is always the same employee who uses the same computer. It is necessary to make sure that the virus does not remain on the surface. If that person has touched something infected.
One way to clean yourself less frequently is to put on a cover at the end of the workday. But to disinfect it after use, it is best to use alcohol sprays or cleaning wipes that have at least 70% alcohol. You can also use a cloth dampened with a little soap and water. Although it needs cleaning and disinfection carefully to avoid damage to all components.
How To Disinfect The Chair And Table
Pay attention to all tables which is another of the sources of contagion to which to disinfect frequently. On this surface, you support all kinds of objects that the virus has contaminated. So you must be careful and clean as much as possible. First, We recommend that you do not have too many objects scattered on the surface, but use boxes, shelves, or any storage element to organize everything you need to have at hand (papers, pens, calculator, and so forth).
Depending on the material we make the table of. It will be better to opt for one type of office cleaning product or another. The same happens with the office chair, before disinfecting it you must consider which products are suitable for disinfection. Whether you use soap or bleach or use the dose recommended by the manufacturer, you will not get better results by adding more disinfectant. Make special emphasis on the armrests of the chair if it has them since it is normal for you to touch them more frequently.
Professional Office Cleaning During a Pandemic
Cleaning and disinfection in offices to prevent contagion is a task that must be carried out by professionals taking the necessary security measures. You should always clean any of the surfaces with gloves and a mask. It must also be taken into account that once an area has been disinfected, it is necessary to wait at least 5 minutes for the product to take effect and for the virus to be truly eliminated.  All the elements that we use during cleaning need subsequent disinfection (cloths, cloths, etc.) or thrown away.